A Congratulatory Letter From American Airlines
I received the following letter yesterday from American Airlines:  While I knew this was coming, I was still glad to receive it. In 2011 I did not get a letter like this until September, and by then I had flown a lot more and spent a lot more money then I did in January this year!
Next stop: Executive Platinum!
Dear XXXX YYYYY,
We are happy to welcome you to another year of American Airlines AAdvantage Platinum® membership and benefits!
Your new card will arrive by mail in just a few weeks, but in the meantime I want to express my appreciation for your business. We are pleased that your status is now extended through the next elite membership year, and will work hard to ensure your loyalty is rewarded.
Along with your membership comes a range of benefits designed to make your travel more enjoyable. Whenever you wish to review your membership privileges, we invite you to access your Benefits Guide online at aa.com/aadvantageplatinum.
As one of our valued elite members, you are especially important to us. Thank you for your support of American Airlines and the AAdvantage® program.
Yours truly,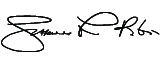 Suzanne L. Rubin
President
AAdvantage® Loyalty Program
Comments are closed.